Leftovers
Courtesy of Countryside Online & Miranda Gore Browne, along with customers' specials.
We know that because of the constant changes to who can gather for Christmas that some may be looking for new ways to use up any leftover turkey!
Can I suggest you check out the wonderful Miranda Gore Browne's turkey recipes below (and do have a look at her scrumptious cakes and other yummy things too!). She publishes new recipes in the equally brilliant and informative NFU Countryside Magazine every month so please do have a look and be inspired. If you would like further details of her cakes and biscuits, do have a look at Miranda's website.
Miranda is a food writer, home-baking expert, director of The Kitchen School and passionate foodie. She was also a finalist on the first series of The Great British Bake Off. Miranda has written two books, Biscuit and Bake Me a Cake as Fast as You Can both published by Ebury Press. 
Cheats Risotto, Thai Curry and Bubble and Squeak are submissions from our customers.
Ingredients
50g butter
1 leek, finely chopped
2 rashers bacon, chopped
100g chestnut mushrooms
1 tbsp plain flour
100ml cider or white wine
200ml chicken or turkey Stock
150ml double cream or crème fraiche
800g leftover cooked turkey, shredded
Few chives
Method
Melt the butter in the pan, and fry the leeks, mushrooms and bacon.
Add the flour and cook for about 1 minute.
Gradually add your choice of either cider or white wine and the stock. Bring to the boil and simmer for about 1 minute.
Take off the heat and add the cream, chives and turkey and heat through thoroughly.
Serve with pasta or rice.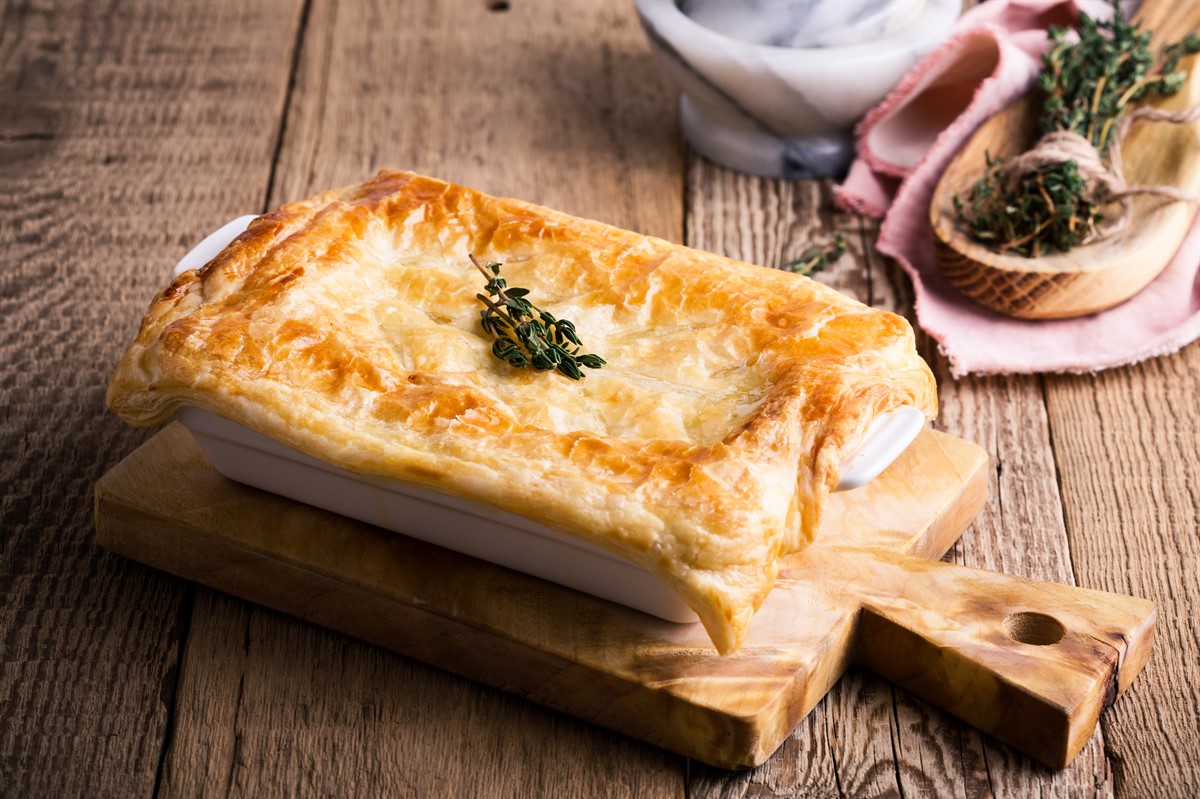 Ingredients
600g cooked turkey
65g butter
60g plain flour
350ml milk
150ml chicken stock
225g mushrooms, sliced
1 large leek, finely sliced
2 tbsp creme fraiche
1 tsp Colman's mustard
Salt and pepper, for seasoning
1 packet ready rolled puff pastry
Method
Melt the butter in a pan, and then add the flour and cook on a low heat for 1 minute.
Gradually add the milk and chicken stock to make a sauce that coats the back of the spoon.
Add the creme fraiche and mustard.
In a separate pan, lightly fry the leeks and mushrooms.
Add the turkey, along with any leftover stuffing you might have, and stir through the sauce.
Pick a dish that the turkey mix will come to the top of, pour in the pie filling, and leave to cool.
Roll out the pastry for the lid, making sure to save some strips to put around the dish on the lip to attach the pastry.
Dampen the lip with water then put the pastry strips around the edge of the dish and then put the rolled pastry on top. Crimp edges and brush with a beaten egg or milk.
Cook at 200 C for about 40 mins. Turn oven down if it is browning too much.
This pie is best served with seasonal British vegetables – click here to find out what is in season.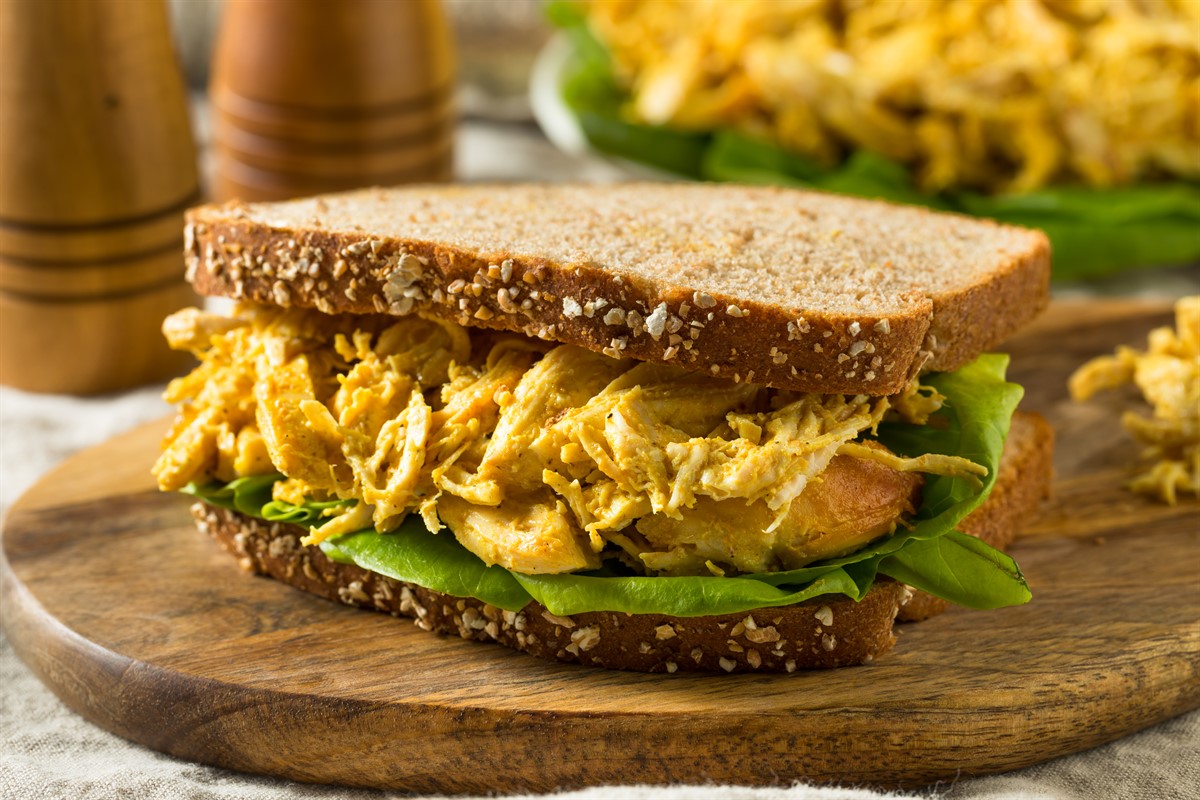 Ingredients 
600g cooked turkey, chopped into big chunks  
150g plain yoghurt 
Juice of 1 lemon 
3 tbsp red wine 
4 tsp mild curry paste 
1 onion, finely chopped 
1 tbsp tomato puree 
2 tbsp apricot puree  
300ml mayonnaise 
Sliced apricots  
Method 
Fry the onion in a frying pan, making sure that it doesn't turn brown.  
Stir in curry paste and cook for 1 minute. 
Add the wine, tomato puree and squeeze in the juice of the lemon. Let it simmer until it has reduced to about 4 tbsp. Allow to cool. 
Add the apricot puree, mayonnaise, yoghurt, sliced apricots and cooked turkey.  
Try serving with a rice salad and stirring through a spoon of mango chutney at the end.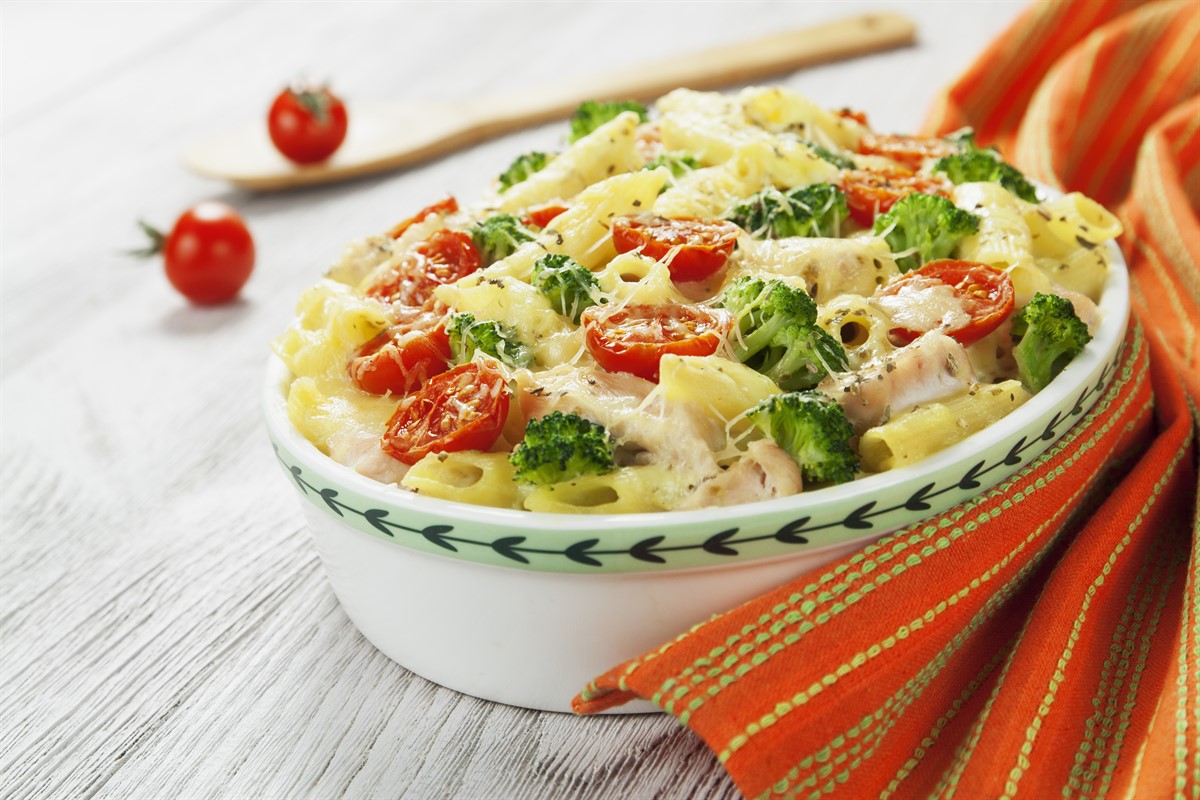 Ingredients
350g fresh pasta
200g broccoli, cut into small florets
400g cooked turkey, chunked
175g mushrooms, quartered
4 tbsp sundried tomato paste
80g soft cheese with garlic and herbs
284ml single cream
For the topping:
4 spring onions, finely chopped
85g mature cheddar, grated
Method
Cook the pasta al dente, following the guidance on the packet.
Cook the broccoli for about 5 minutes.
In a separate pan, fry the mushrooms, and then add the sundried tomato paste, soft cheese and cream.
Stir together the pasta, sauce, broccoli and cooked chicken, and pour into an oven-proof dish.
Sprinkle the grated cheese and spring onions on top and bake for 20 minutes at 190 C.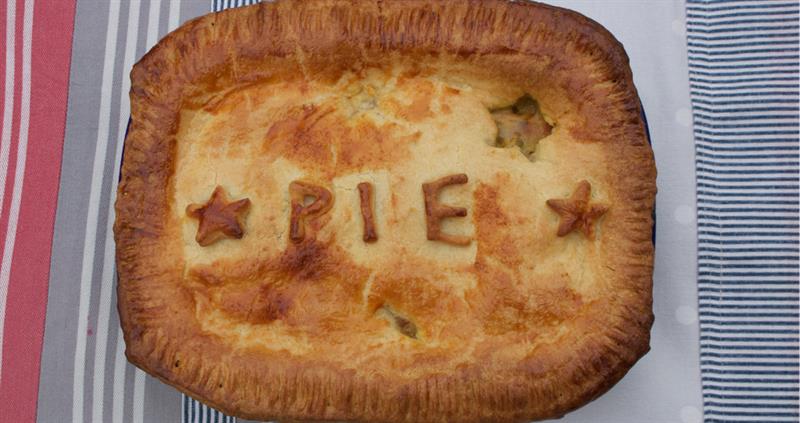 Ingredients
Sour cream pastry: 
(This is twice the amount you will need for the pie, freeze the rest for another time)
500g plain flour
Pinch of salt
300g unsalted butter
250ml full fat sour cream
For the filling:
1 tablespoon of olive oil
2 leeks (300g) washed and finely sliced 
2 tablespoons of butter
Salt and black pepper
Fresh or dried thyme leaves – a few sprigs
300g roast turkey, shredded into pieces.
150g roast ham, 
cut into chunks
3 tablespoons of plain flour
300ml of turkey stock, (or you could use some leftover gravy with some boiling water added or 2 chicken stock cubes with 300ml boiling water)
2 tablespoons of brandy or cognac
1 egg (for egg wash)
Method
Chop the cold butter into cubes and leave to soften for about five minutes.
Whizz or whisk together the flour and salt, use your hands (or the food processor) to rub in the butter until it looks like fine breadcrumbs. Add the sour cream and whizz again or mix with a knife until it comes together as a dough.
Press into two flat discs, wrap tightly in cling film and chill for at least an hour.
Put the leeks into a deep-sided frying pan or casserole dish with 1 tablespoon of olive oil, cook until soft. Add a tablespoon of water if they start to go dry.
Add a tablespoon of butter to the pan and stir until melted.
Toss the flour over the turkey and ham,  then add to the pan with the buttery leeks.
Stir and after a few minutes add the hot stock (or gravy) and brandy and let it bubble for about five minutes until it is glossy and has thickened.
Preheat the oven to 220ºC/gas mark 7 and put a flat-sided baking tray ready to stand your pie dish on.
Take the pastry out of the fridge and dust with a little flour, I find it easiest to roll it out between two pieces of non-stick baking paper. Roll until about 0.5cm thick. Use a biscuit cutter or bottle lid to cut a few shaped holes in the pastry.
Tip all the filling ingredients into your pie dish.
Brush the top edge of your pie dish with egg and then lay your pastry on top, trim but leave 2cm extra to allow for shrinkage
Use a fork to press around the edges.
Brush the top with egg wash and put into the preheated oven to bake for about 25 minutes or until golden and crisp on top.
Ingredients
Your favourite rice (enough when cooked to half fill a casserole/baking dish)
Leftover turkey/goose/gammon/stuffing (as much as you want to get rid of)
Frozen mixed veg (French beans/carrots/peas/peppers – whatever your supermarket has int he mix)
Condensed chicken soup (Campbells) one or two tins depending on size of dish and whether you have left over gravy to include)
Left over gravy options
Onion
Garlic
Cheddar (or any left over cheese) enough to cover the dish in the oven
Tomatoes (optional) for decoration
Method
Cook your preferred rice until just done, but with a little bite, drain well

In your casserole dish fry onions and garlic until golden

Add cooked rice and stir in, condensed soup from can (do not thin), left over gravy if using, leftover turkey of whatever, packet of frozen mixed veg (adjust quantity if only serving a few)

When mixed well cover thickly in grated cheese and sliced tomato

Bake for 25-30 minutes in preheated oven until piping hot and cheese has melted and browned
Serve with additional parmesan and tabasco, with fresh bread and salad
Ingredients
Leftover Turkey/Goose/Duck
Jar of red Thai curry paste (green works)
Onions
Garlic (finely chopped, not crushed)
Chillies (optional)

Leftover 

uncooked

 vegetables (French Beans, Carrots, Peppers, 

Broccoli (ideally sprouting), Baby Sweetcorn, Spring Onions cut into thin strips (carrots ideally ribbons)
Can of Coconut milk
Can of Bamboo shoots
 Fish Sauce
Lime Juice
Sugar
Coriander leaves
Method
In a hot wok or large pan fry onions for 2 minutes and garlic and chillies for 60 seconds.
Add veg and cook until hot but still al dente.
Add turkey and coconut milk, bring to simmer
Add sugar, fish sauce and lime juice to taste – bring to boil and serve with boiled rice, and garnish with chopped coriander.
Ingredients
Cold meat
Left over veg (inc lots of cooked sprouts)
Onions
Garlic
Potatoes
Method
Boiled potatoes are best, so peel and boil (you can still add left over roasties later) – drain and slice
Meanwhile fry the onions until soft, add the garlic and the newly boiled potatoes. Cooked until slightly coloured.
Halve left over sprouts, slice left over roasties and parsnips, the add along with other leftover veg – peas, carrots or whatever you have. Still well and fry for a 5-10 minutes turning to give all some colour.
remove from heat and press down in pan. Lightly drizzle in oil and place in pre heated oven until piping hot and the veg has taken on a slight "crust"
Serve alongside cold meat and pickles, with an optional fried/poached egg on the bubble and squeak
This is the goose biryani recipe I use, which is absolutely wonderful and dare I say it better than the roast goose? I'm sure I'll be making this again!
https://maunikagowardhan.co.uk/cook-in-a-curry/christmas-goose-dum-biryani/